How Can AndyMark help you with FIRST Tech Challenge?
AndyMark has been working with FIRST to manufacture the official game pieces and sets for FIRST Tech Challenge since 2013.

We've worked to create high quality products designed specifically with FIRST Tech Challenge teams in mind, including robust gearmotors, highly configurable chassis, building systems, and useful motion components.
There are millions of possibilities for making a competitive robot. This is a good starting point for exploring the possibilities that you have available here at AndyMark. We're here to make it EASY and reduce confusion.

Our goal is to deliver quality products and outstanding service. Any questions or help picking components, reach out to us at support@andymark.com or by phone at 877-868-4770.
QUICK START GUIDE
Here's a list of things you'll probably need to build a successful robot for a FIRST Tech Challenge robot.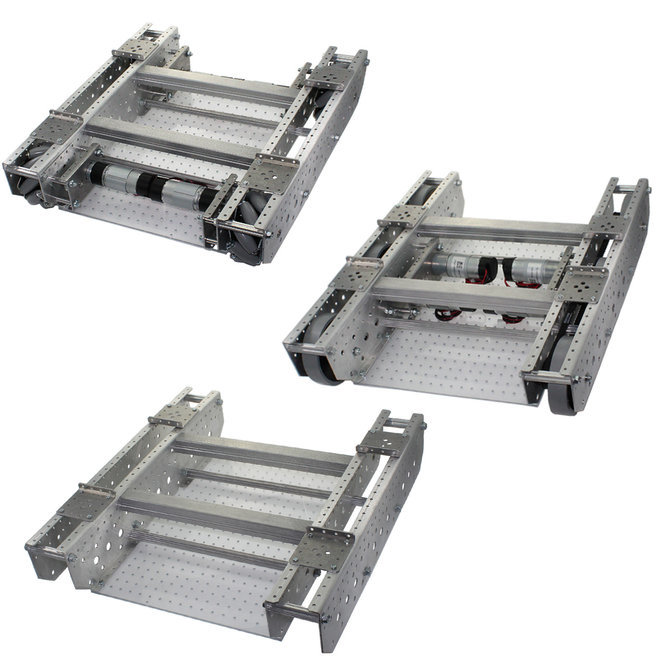 What's the most important part of a robot? The Chassis, aka drivetrain! We can help you "get moving" with the most important part of your robot.

Our FIRSTⓇ Tech Challenge Chassis are focused on traversing the FTC field tiles and game elements. These chassis take the lessons we have learned from many years of experience in competition robotics and have applied them to complete chassis packages that are a perfect foundation for construction of your robot. We have 3 chassis specifically catered to FIRST Tech Challenge Teams: the original TileRunner, the tank-tread-enabled TreadRunner, and the super smooth MecanAM Chassis. We can help choose which option is right for you here!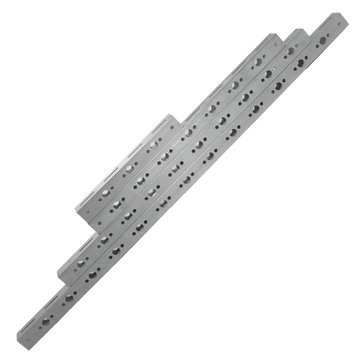 Where do you go from your chassis? You go up! Make an intake, an arm, an elevator, and more with the S3 Building System.
The S3 extrusion sets the tone for all other S3 related parts and products. Made from 6061-T6 Aluminum, this box tube is strong and sturdy. Clearance holes for 6-32 screws are spaced every 16mm creating a grid for interfacing with gussets, Nubs, PicoBoxes, gears, and sprockets, as well as many parts from other vendors too! 8mm holes every 32mm also provide an interface for products with an 8mm alignment boss. 16mm long slots on two faces also allow for adjustability in belt or chain driven mechanisms and enable precision alignment of your structure to get the exact fit your design requires.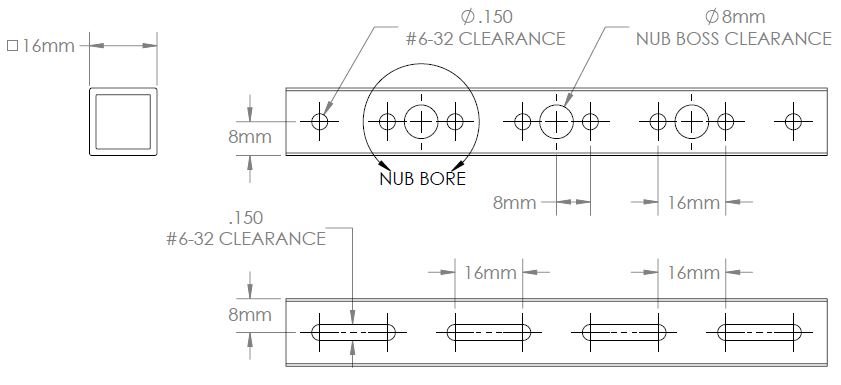 Check out our
S3 User Guide
for more information how to take advantage of these features!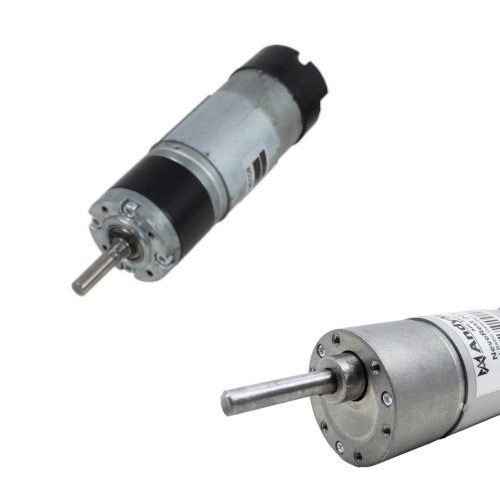 AndyMark offers the most reliable motors and gearboxes for
FIRST
Ⓡ Tech Challenge teams. All of our NeveRest gearmotors - that's a motor with a gearbox pre-attached - are approved for use in FTC.
NeveRests come in 7 different gear ratios, ranging from 3.7:1 (for super fast, low torque applications like flywheel mechanisms) to 264:1 (for high torque, low speed use like rotary arms).

Classic vs Orbital
There are two different families of NeveRest gearmotors - Orbitals & Classics. The difference is in the internal workings of the gearbox and where the output shaft comes out. The NeveRest Orbital gets its name from its planetary gearbox, whereas the NeveRest Classic features a compact spur-based gearbox design. The shaft on a NeveRest Orbital is in the center of the motor, while on a NeveRest Classic the shaft is off to one side. Both feature 6mm D-shaped steel output shafts, making them compatible with many other products in the marketplace!

The differences in mounting geometries for our NeveRest Motors are shown here: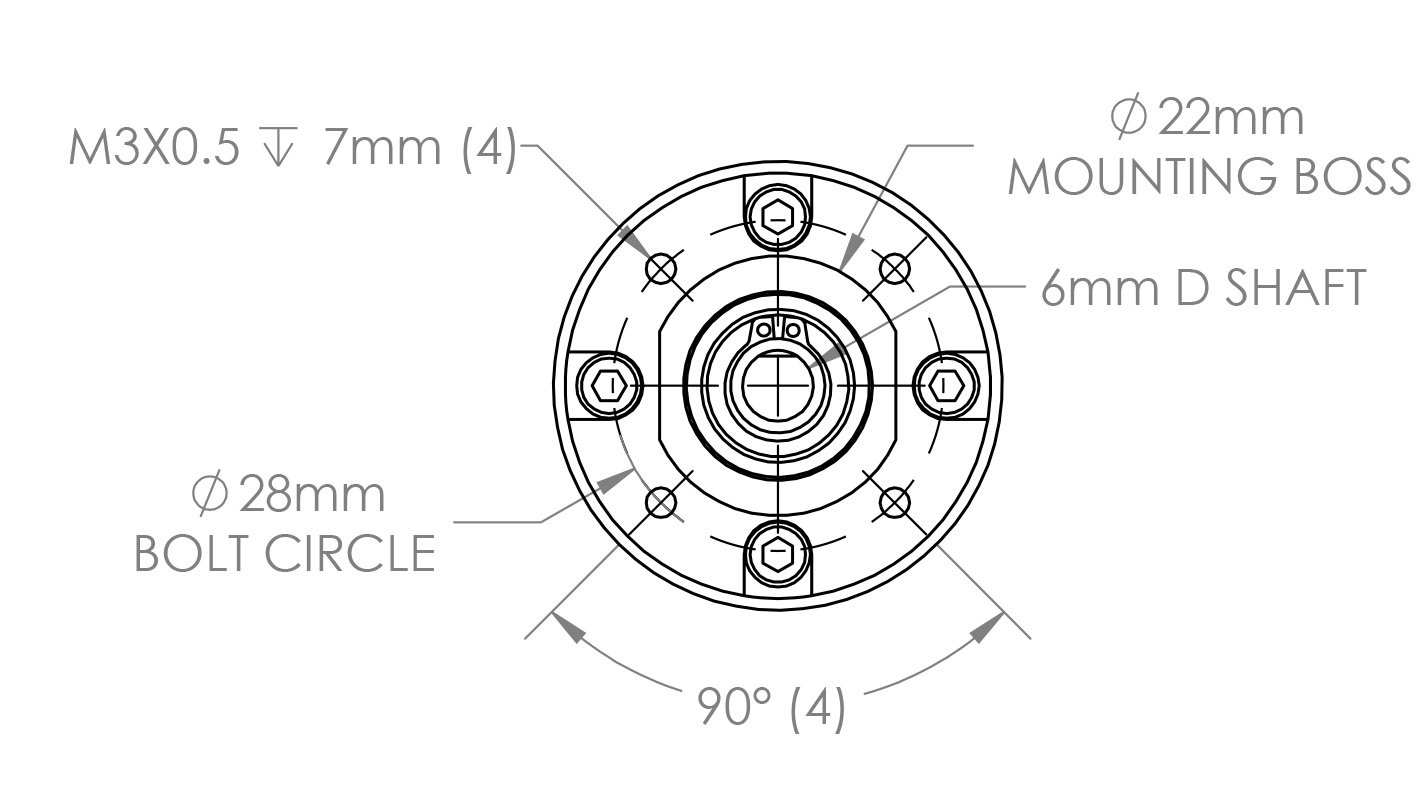 And if you need more gear reduction options, keep scrolling to read about more gearboxes!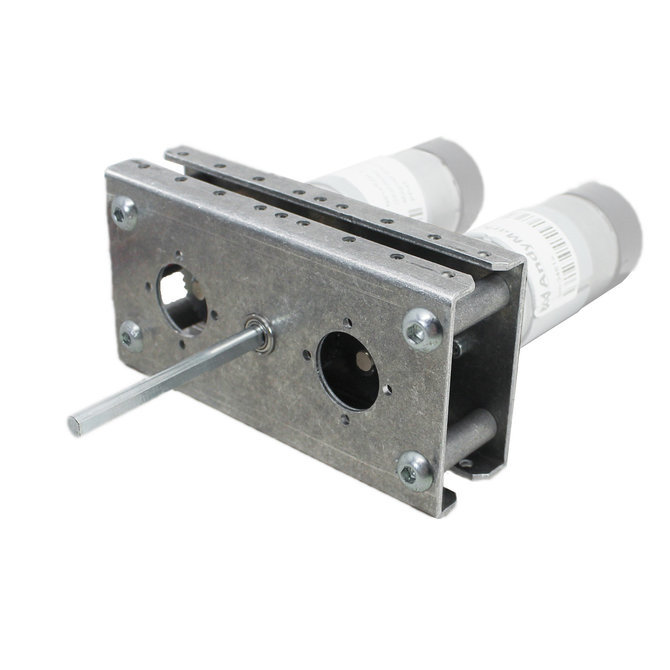 NeveRests can face mount to a lot of places! You want to mount them somewhere else you say? You want to combine the power of two NeveRests in to one output? Have we piqued your interest?
PicoBox gearboxes come with 35, 40, and 45 Tooth gears allowing you to adjust your final output up by 1:1.28 or down by 1:0.78.

LEO, MEO, and GEO PicoBoxes will attach to your Orbital NeveRests, while Solo, Uno, and Duo PixoBoxes attach to Classic NeveRests.

All PicoBoxes feature a robust 6mm D Shaft, the same durable shaft size that is standard on our NeveRest motors.
Where Do These Get Used?
LEO and Solo PicoBoxes are used to mount single NeveRests securely to structure and support a motion item like a pulley or sprocket. These are useful for intakes and shooters. You can also use the individual plates within these products as simple mounting brackets for your NeveRest motors.
MEO and UNO PicoBoxes are used to provide additional ratio changes to a NeveRest ratio AND give more mounting options.
GEO and DUO are used to combine two separate NeveRests into one shared output. Most often used for the drivetrain.

We also carry PicoBoxes that support servo motors! Use the PicoBox Servo to mount individual servos securely to structure and support a motion item like a pulley or sprocket. The PicoBox Super Servo supports one servo and provides additional ratio changes to a servo AND gives more mounting options. Use a PicoBox Super Servo to combine two servo motors into one output shaft.
Nubs make the connection between shafts and motion components such as wheels, gears, sprockets pulleys and more. Nubs can also be used to connect these motion components to our S3 Building system or any 16mm based building components. AndyMark has a variety of Nub options including ones that interface with the 6mm D shaft used by the NeveRest motors & PicoBox gearboxes. We also have other bore options including 5mm Hex, 6mm Bearing, and 24T Servo bores.

We carry several body profiles of the Nub too! Their use cases are:
Single Boss for installing an individual Nub Bore item on a shaft
Double Boss for locating two Nub Bore items on a shaft

Double Boss XL for high-torque applications or connecting two shafts together

Single Boss Bearing for making free-spinning motion components

Single Boss Servo for interfacing with 24T spline-based servos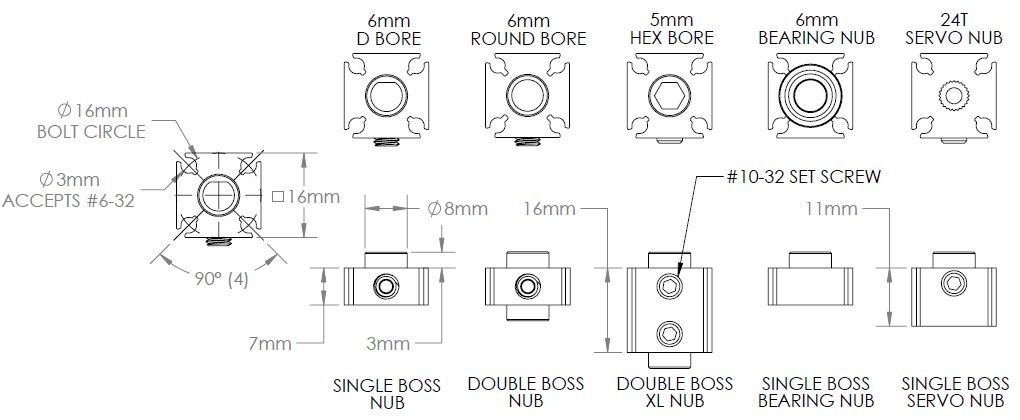 AndyMark has every kind of wheel you could imagine for your FTC robots.
Our stealth wheels and performance wheels are great choices for finishing out a 4 or 6 wheel chassis
Our mecanum wheels and omni wheels help your robot move across the field in any direction

Our compliant wheels are great for capturing and manipulating game pieces
The easiest AndyMark wheels to use on an FTC robot are our Nub Bore wheels. Like the name suggests, these wheels are intended to match up with AndyMark nubs for a robust way to interface with different shaft and motion products on FTC robots. These feature an 8mm center hole for piloting onto the Nub Boss, as well as a 16mm diameter bolt circle which is perfect for securing the wheel to the Nub via 6-32 screws: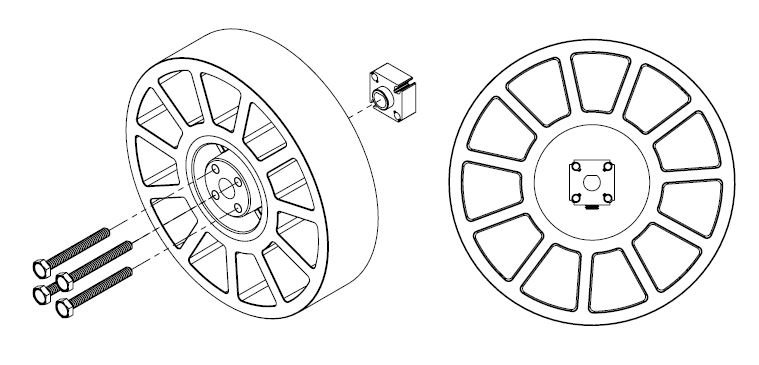 To convert wheels that have a 1.875" diameter bolt circle (commonly used on
FRC
robots,) we also sell a
handy conversion plate
to adapt this bolt pattern to the Nub Bore pattern. This is typically installed with #10 screws, while the Nub is affixed to the Conversion Plate using the same 6-32 screws: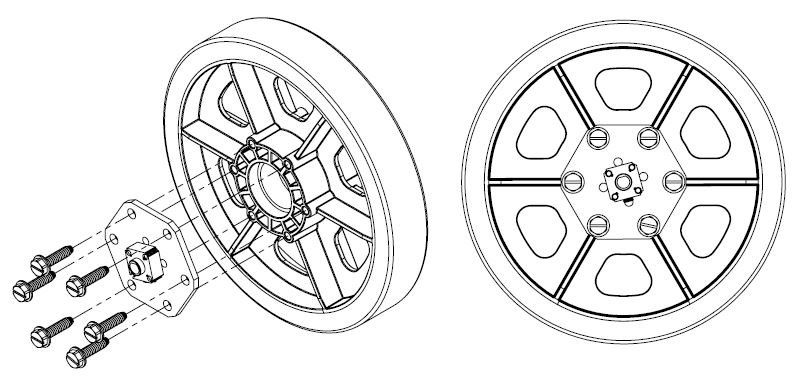 We also offer a variety of hex bore versions of our wheels. Our 5mm hex bore wheels are compatible with other 5mm hex shaft-based products in the marketplace. To use our 1/2" hex bore wheels with our 6mm D shafts and NeveRest motors, a 1/2" hex to 6mm D Bore adapter can be used. A new version of this shaft adapter (coming Fall 2021) is shown in this example here: