Shipping Policy
Free Shipping Tuesdays
, some exclusions apply. For the month of July, AndyMark is offering free shipping for orders over $50 placed on Tuesdays (July 5, July 12th, July 19th & July 26th), for FedEx Ground shipping. International shipping excluded. The following are the products that are not eligible for free shipping:
POWERPLAY Game Set Preorders
FRC Field Perimeter

Pool Noodles


When placing your order on-line, shipping fees will be calculated based on the items in your cart. Contact CustomerService@AndyMark.com for questions.
AndyMark, Inc. ships almost exclusively parcel packages via FedEx and USPS small flat rate.
Notification and tracking information will be sent to the customer provided e-mail at the time the product is shipped.
Shipping costs include shipping, packaging, and handling, and are the responsibility of the customer.
Shipments originate from Kokomo, Indiana (Zip Code 46901).
If you would like to ship using your FedEx account, indicate this shipping option and provide your account information in the Comment area of the order. We will charge the shipment to your account and omit our shipping charges when we ship your order.
All product shipments are insured.
We offer shipping via USPS for small parcels and for certain regional customers.
Overnight deliveries are not guaranteed to ship the day the order was made if placed after 2 PM, ET.
AndyMark cannot provide delivery instructions to a FedEx driver. Manage your delivery by registering for FedEx Delivery Manager
If waterjet cutting service order includes additional AndyMark products, they will all ship together after the waterjet parts have been processed.
FREE Shipping Mondays - August 2023
This shipping option is available on the following dates, 8/7, 8/14, 8/21 & 8/28 for orders with a minimum order balance of $75. This option is limited to FedEx ground shipping only for the 48 contiguous United States. International shipments are excluded from this promotion. To receive free shipping, the customer must select the FREE Ground Shipping option on the website during check-out. Shipping fees will not be removed after the order is placed.
The following parts and products are exclusions for the FREE Shipping Monday options, although other exclusions may apply:
CENTERSTAGE Game Sets
FTC Perimeter Kits
Robot Competition Table/Parts

FRC Batteries
Any product containing Pool Noodles
Polycarbonate Sheets (all sizes)
AndyMark Field Perimeter (am-2800)
Soft Tiles
FIRST Tech Challenge Basic & Premium Sets
Any 6' Extrusion
Robits Core Kits
Diamond Plate
Any large item not included on this list
Shipments within the Continental U.S.
AndyMark utilizes an automatic shipping price calculator through FedEx for domestic shipments. These shipping costs will show up as different shipping options are chosen and the order is updated. Our most common shipping method is FedEx Ground and FedEx Home Delivery, but we also offer the following options:
FedEx Priority Overnight - Delivery by 10:30 A.M. next business day
FedEx Standard Overnight - Delivery by 3 P.M. next business day
FedEx 2 Day* - Delivery by 4:30 P.M. 2nd business day
FedEx 2 Day AM Delivery* - Second-business-day delivery by 10:30 am to most US addresses, by noon to rural areas.
FedEx Express Saver* - Delivery by 4:30 P.M. 3rd business day
*FedEx Express Saver and FedEx 2Day are available to select locations only. *Transit days are Monday - Friday.
Contact us for questions related to transit times and delivery options for your order.
**The above shipping options are for
Monday - Friday deliveries
. If you require a Saturday delivery, you must select the Saturday Shipping option when placing the order. If this option is not provided, Saturday deliveries may not be available for your location. The "Ship To" address for a Saturday Delivery must be to a residence or a commercial business that is open to receive regular deliveries on a Saturday. A school address will not suffice.
All shipments originate from Kokomo, Indiana (Zip Code 46901). Below is a ground service map illustrating transportation times from the date your package is shipped from our location (Updated on Feb 14th, 2022).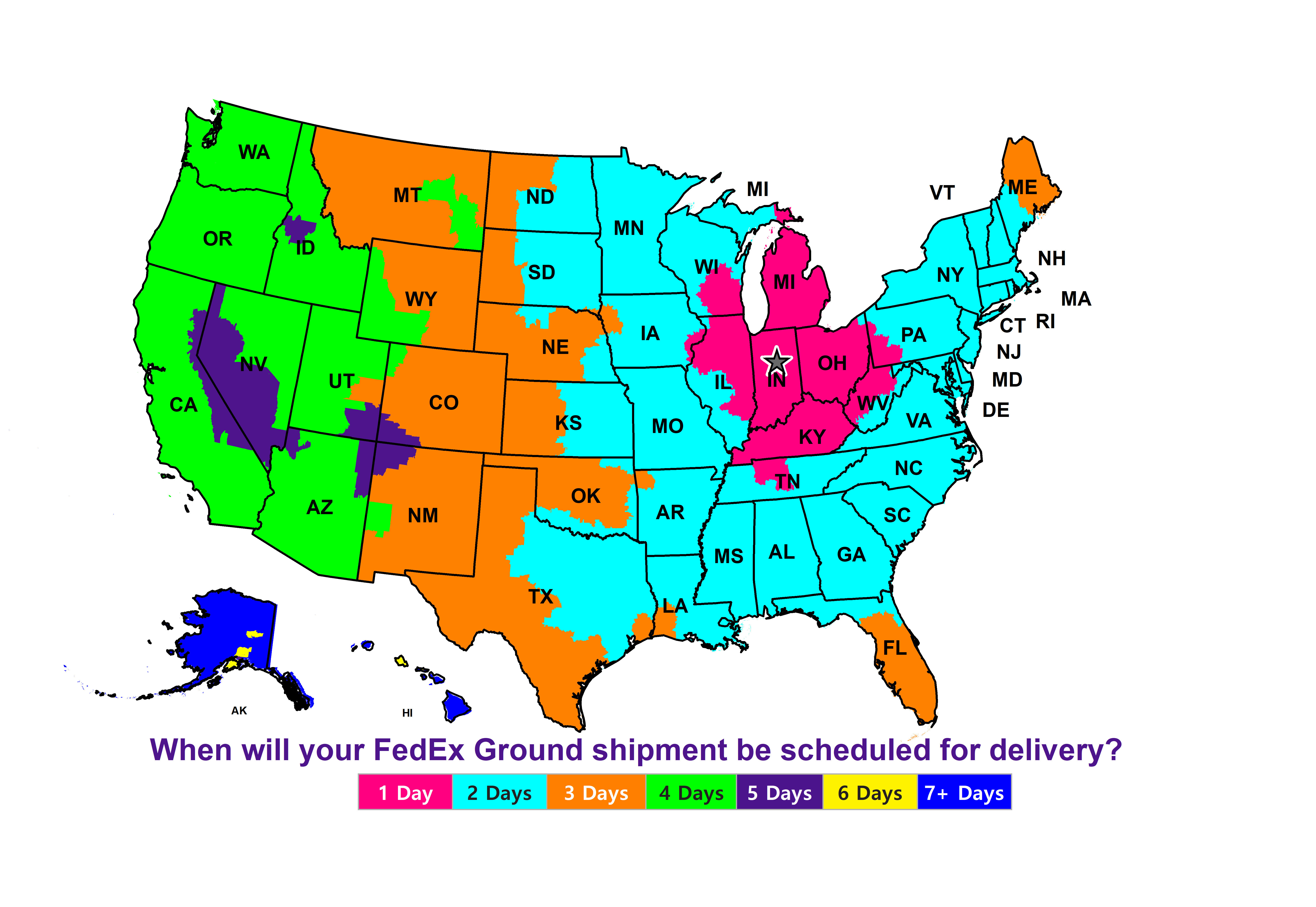 Shipments to Hawaii and Alaska
For shipment to Hawaii and Alaska, we offer the option of shipping via USPS. These shipment costs will show up as different shipping options are chosen and the order is updated.
Canada Shipments
AndyMark ships to Canada using FedEx. When you place an order, all brokerage, shipping and taxes will be built into your total.
Brokerage Fees & Duties:
For FedEx Ground shipments to Canada, if the order is less than $1599 you will be charged a minimum of $10 and no more than $20, based on the package value. If the value is more than $1600 you will be charged $55 for brokerage and customs fees. This will automatically be added and reflected in the shipping charge you see when you select your FedEx shipping price. For Express shipments to Canada - brokerage fees are already calculated in the FedEx shipping price.
Taxes:
Taxes to Canada are charged differently based on what province the shipment is going to and whether the shipping address is residential or commercial. Any order placed by a Canadian customer will automatically have a 5% tax associated with the order. This is the commercial shipment tax for every province in Canada. We have set up an additional tax for residential customers that vary by province. If you place your order and you are charged the residential tax but you should get the commercial rate, you will need to send an e-mail to webmaster@andymark.com and we will set you up to ensure you receive the commercial tax rate. If you already have an account on our website, and have shipped to a Canadian commercial address, you are already set-up in our system as commercial.
Delivery outside of United States & Canada:
Shipping charges are dependent on location. Please select what shipping method you prefer when placing your order, and shipping fees are calculated at that time. We can provide USPS quotes for international shipments, and depending on the size and weight of the order, we can get a quote for other FedEx shipping services. Shipping prices can be adjusted after the order is placed. The order will ship when payment is received in full.
AndyMark reserves the right to refuse an order.
We can provide a USPS shipping quote, or other FedEx services quote, depending on the weight of your order. Please indicate your desire for a quote in the "Order Comments" section of your order.
If you are using a freight forwarder and require international paperwork for your order, please indicate that in the Comments section of your order, or email sales@andymark.com. There is a $30 fee to process this paperwork if done before the shipment leaves our warehouse. The processing fee is $40 if done AFTER the shipment leaves.

Duties and Taxes on All International Orders
Many international packages are delivered to customers who are required to pay extra duties and taxes due to the incoming country. These extra charges are NOT included in the AndyMark shipping charges, and are solely the responsibility of the receiving customer.
2-day Shipping for the price of Ground!
January 7 - February 18, 2023
We know that many of our customers have time-critical deliveries during January and February. AM Advantage Shipping offers a shipping option of 2 business days from when the order leaves our facility at the lower Ground rate!
AM Advantage Shipping is available on orders of $50 or more placed between January 7 and February 18 being shipped to destinations in the contiguous 48 states. If a shipment will normally be delivered within 2 days using FedEx Ground shipping, it will ship FedEx Ground. Customers MUST select AM Advantage as their shipping method when checking out. Standard rates apply for Standard Overnight, Priority Overnight, and Saturday Delivery options.
Some items are not eligible for AM Advantage Shipping. You can put them on the same order as things that do qualify, but these items will always ship FedEx Ground, while the other items on your order will ship with AM Advantage Shipping benefits. The ineligible items are:
Batteries

Any item containing Pool Noodles

Plastic & Polycarbonate Sheets (all sizes)
Euroboard
TileRunner drive system

AM14U Family drive systems including the individual large items (inside, outer, end plates, wedge plates)

FIRST Tech Challenge Field Perimeter (am-0481a) or large sections of this field

AndyMark Field Perimeter (am-2800)

Soft Tiles

3 Bank Battery Charger

FIRST Tech Challenge Field Sets

Swerve & Steer Modules

Any 3' or 6' Extrusion

Any 3' or 6' Aluminum or Steel Shafts
Any large items not included on this list

FIRST Choice Orders, unless there is an accompanying $50 minimum AndyMark.com purchase and you request the orders be combined.