See how AndyMark can help your team take on CENTERSTAGE℠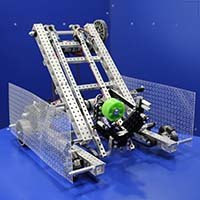 The Robits CENTERSTAGE Robot was designed to be built only using the Robits Core Kit, just add a control system! It can reliably pick up Pixels, score Pixels, and hang. Its design has plenty of flexibility to iterate and tune the design to each team's needs.
The design of this robot can be found in the files hosted on the Robits Core Kit page.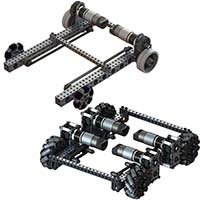 Everything you need to know about the Robits Build System gathered in one easy place. Robits was developed with Accessibility, Iteration, and Progression in mind. Our kits are used with #10 hardware, color coding for motion and structural components, and approachable hole patterns to reduce barriers to accessibility in robotics. Robits iteration focus design helps students strengthen their problem-solving skills, by making it simple to try many different solutions. The design of gearboxes, wheel mounting, and motor mounting lets the characteristics of the robot be changed quickly and easily.
FTC Chassis (aka "drive base", "drivetrain", "chassis", "drive system") - This is the base drive platform used for your robot design.
Building System - Design the mechanisms and structure you need to play the game using these components.
Gussets - The ideal connection components for robot structure.
NeveRest - Performance, many ratio options, and years of proven reliability to get your mechanisms moving.
Carriers - The perfect connection point for your moving pieces
Wheels - Many durometers, bores and styles-our wheels aren't just for driving.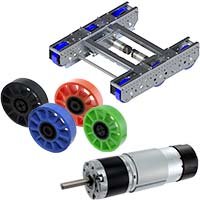 This page is a good starting point for a team to broaden the equipment that they're using to build FTC robots.