AM14U5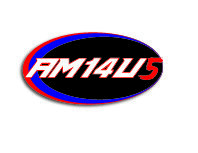 One for You - Resources
The AM14U5 is the 2022 FIRST Robotics Competition Kit of Parts Chassis, and for a great reason. This chassis allows every team to compete in the challenge out of the box. Even better though, is you can customize this frame with any wheel or gearbox your heart desires.

Here you will get a glimpse into how many options are at your fingertips when choosing how to configure your AM14U5 for your needs. If you ever have any questions about what you can do with this frame, we're just a phone call or email away.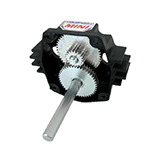 Gearbox Options
The stock "U5" includes two ToughBox Mini gearboxes geared with a 10.75:1 reduction and CIM motors. With the stock 6" diameter wheels this yields a speed of around 12.98 feet per second.

Like wheel options, there is a plethora of gearbox changes that you can make! Lower reduction in the Toughbox Mini for a higher speed, three and four motor gearbox options, and even two speed transmissions are all available. For a bigger idea of all the gearbox changes available look back here soon for more details.
Frame Options
The "U5" like all generations of AM14U can be configured in several orientations, most commonly "Long", "Square", and "Wide." In addition to adjusting the shape of the frame, you can also provide an opening. When looking at these changes however, always be sure to check the robot bumper rules and the frame perimeter rules, and ensure your planned modifications are legal.

Below are three frame-changing options, just a sample of the many changes you can make to create the perfect robot frame!
There is more to a robot frame than just the plates and wheels. You need bumpers (most years), batteries, and ways to hold it all!

We have several options for securing bumpers and batteries and even more to the AM14U5. Below you will find some of the most useful additions. Click the header for this section to see even more!
Behind most robots is a brain, and plenty of wires to feed electrons to and from that brain. We've simplified the steps of getting rolling with our Electronics Bundles Builder.
These bundles include everything from the robot power cable to the motors. Since batteries are heavy and expensive to ship, we've omitted them from these bundles to help those of you which already have batteries.
If you need a non-legal FRC basic controls just for simple testing, check out this curated bundle BCLS4C3.
For a more complex and legal controls bundle, you may prefer the BCRS4CP bundle.
Autonomous actions are important for FIRST Robotics Competition matches. Simplifying controls is helpful too!
We offer numerous components to handle distance measuring like ultrasonic sensors. If measuring axle rotations is important for you, loads of encoder options might grab your interest.
For even more advanced controls options we have you covered. Inertial Measurement Units, Vision Processing and Outputs are ready for your robot.
Resources
Assembly Videos, Assembly Guides, and in the future maybe more!