How Do I Use Robits?
Robits is a new AndyMark building system for FIRST Tech Challenge teams, designed with accessibility in mind. Robits encourages rapid iteration and promotes development of critical thinking and problem solving.
The Robits system is designed to reduce complexity and enable robust builds. Parts align to a common 1/2" grid simplifying construction and allowing alignment of both structure and motion components. Optimized resolution of components simplifies the system while allowing teams to always have the parts they need to complete a build.
Robits is an excellent cross-program system utilizing many common features and components FIRST Robotics Competition teams have grown to prefer.
QUICK START GUIDE
Here's a list of things you'll probably use to build a successful Robits robot for FIRST Tech Challenge.
FTC Chassis (aka "drive base", "drivetrain", "chassis", "drive system") - This is the base drive platform used for your robot design.
Building System - Design the mechanisms and structure you need to play the game using these components.
Gussets - The ideal connection components for robot structure.

NeveRest - Performance, many ratio options, and years of proven reliability to get your mechanisms moving.
Carriers - The perfect connection point for your moving pieces
Wheels - Many durometers, bores and styles-our wheels aren't just for driving.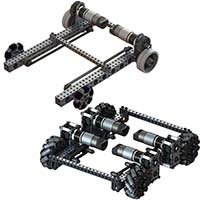 At the heart of every robot is its chassis or drivetrain. Let us help you get a move on with the most important mechanism of your robot.

Our Robits Chassis are focused on traversing the FTC field tiles and game elements. These chassis take the lessons we have learned from many years of experience in competition robotics and have applied them to complete chassis packages that are a perfect foundation for construction of your robot. Included in the Robits Core Kit is a simple starter chassis to make it easy to get a robot driving. More experienced builders will find our Intermediate Mobility expansion useful for making a mecanum drive in one of three major configurations.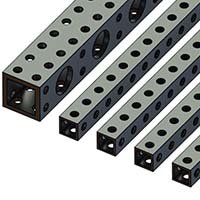 Building System
Where do you go from your chassis? You go up! Make an intake, an arm, an elevator, and more with the Robits Building System.
The Robits extrusion sets the tone for all other Robits-related parts and products. Made from 6061-T6 Aluminum, this box tube is strong and sturdy. Clearance holes for 10-32 screws are spaced every 0.5 inches, creating a grid for interfacing with gussets, gears, shafts and standoffs. 0.25 inch resolution of gussets and spacers makes it easy to keep components on grid, simplifying the build process. On the 1 inch by 1 inch tube profile, the sides utilize a bushing hole every 1.5 inches to make motion components like a drivetrain or an arm with no problem.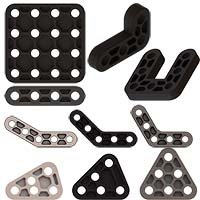 Gussets
Robits uses a variety of gussets to aid in the construction of whatever you can imagine.
Where Do These Get Used?

Plates - Plate gussets are predicated on the standard Robits grid pattern, making them a good choice for structural attachment and component mounting.
Beams- Beams are lightweight single grid gussets that are perfect for linkages and structural attachment.
L's - L gussets feature holes on intersecting grid lines making them great at mounting components at a 90° from each other.
U's - U gussets have a tight inside corner, making them able to fit over a 0.5 inch wide tube. Use these to facilitate a lap joint to prevent component rotation.
Angles - Angle gussets are featured in 30°, 45°, 60°, 120°, 135°, and 150° which facilitates joinery in non-perpendicular directions. Same colored angle gussets are complementary.
Corners - Corner gussets integrate a 90° shape with an angled component. This allows mounting in a manner which can create easy funnel shapes.
Triangles - Triangle gussets are lightweight stiff gussets that greatly add stability to joints and open up angled mounting options.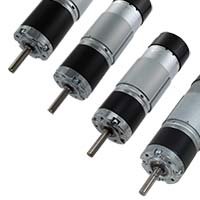 AndyMark offers the most reliable motors and gearboxes for FIRSTⓇ Tech Challenge teams. All of our NeveRest gearmotors - that's a motor with a gearbox pre-attached - are approved for use in FTC.
NeveRests Orbitals come in 4 different gear ratios, ranging from 3.7:1 (for super fast, low torque applications like flywheel mechanisms) to 264:1 (for high torque, low speed use like rotary arms).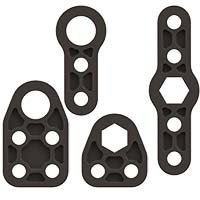 Carriers
Robits uses components we call carriers to assist in all sorts motion applications.
Carriers come in two types: shaft and bushing.
Shaft carriers transfer torque using an integrated hex feature and are made of a durable polycarbonate plastic.
Bushing carriers allow hex shafts to spin smoothly due to their low surface friction material: acetal.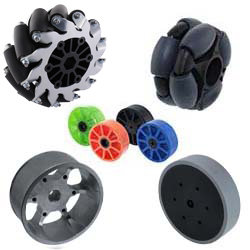 AndyMark has every kind of wheel you could imagine for your FTC robots.
Our stealth wheels and performance wheels are great choices for finishing out a 4 or 6 wheel chassis
Our mecanum wheels and omni wheels help your robot move across the field in any direction

Our compliant wheels are great for capturing and manipulating game pieces
The easiest AndyMark wheels to use on a Robits robot are our 3/8" Hex Bore wheels. These hex bore wheels fit easily on the 3/8 hex shafts found everywhere on a Robits robot and are able to be driven without the need for a set screw feature:
To convert wheels that have a 1.875" diameter bolt circle (commonly used on
FRC
robots,) we also sell a
3/8 hex hub
to adapt this bolt pattern. This is typically installed with #10 screws.
To use our 3/8" and 1/2" hex bore wheels with our 6mm D shafts and NeveRest motors, a hex to 6mm D Bore adapter can be used. A version of this shaft adapter is shown in this example here: